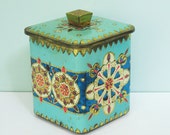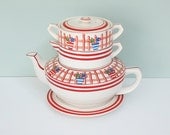 Can you tell us how you came to sell vintage?
It all started with a large and lovely collection of Lu-Ray Pastel dinnerware. Before we had children, my husband and I used those vintage relics as our everyday dishes. After the birth of our first child, we needed something more practical. Plus, space was at a premium in our tiny first home, so I decided to rent a small space at a local antiques shop. My huge Lu-Ray stash sold quickly and before I knew it, I was looking for more items to fill the space. Fast forward 10 years to when I opened my very own antiques shop and tea room which had a successful 5-year run from 2003-2008.
How did your Etsy shop begin?
When my tea room closed (my landlord planned to tear down the 1890 farmhouse that I rented and I was unable to find a suitable new location), I had a small amount of remaining inventory. So in October 2008, I decided to open an Etsy shop.
What is your favorite era?
I gravitate toward colorful, whimsical items from the 1930s and 40s.
What is your current favorite Vintage find?
My favorite vintage find is a Home Sweet Home embroidered picture of a sweet little cottage and garden. (I'm partial to cottages as I live in one myself!) I use the piece on the header photo of my Etsy shop, blog, and even on my website's home page. Plus, I had a friend draw up an embroidery pattern for the picture that I sell on Etsy.
Where do you like to hunt for your treasures?
Here, there, and everywhere! I love to go to estate sales where the house is chock full of a messy jumble of old stuff. It's such fun to root around and find a treasure! I also like to go to the Elephant's Trunk Flea Market in New Milford, CT on summer Sunday mornings.
What advice would you wish someone had told you when you first started selling vintage?
Hmmm, good question. I wish someone would have warned me how addicting it can be! ;)
and anything else you want to add??
Just that items filled with vintage goodness have good karma and imperfections that come from being well loved. They have loads of life left and I am thrilled to be able to pass them along to someone who will enjoy and appreciate them.