I began collecting vintage jewelry and handbags when I was in high school. Time went by and there so many pieces that I didn't wear, I decided to rework them into something new! As a jewelry maker it was a natural transition to combine the two passions, and Nuggets of Goodness was born!
My favorite era? I adore Art Deco, but my true love is Mid-century Modern! *swoon*
My current favorite Vintage find is a stash of 1950s French fashion magazines. The ads are AMAZING!
Where do you like to hunt for your treasures?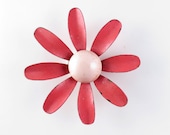 Thrift stores, antique malls, flea markets...every once in a while I run across a surprise at a garage sale. I'm not patient enough for auctions, although I've gotten some really great pieces that way!
What advice would you give anyone starting out?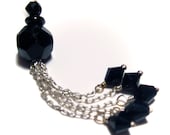 Educate yourself. I worked for an appraiser for many years and he encouraged me to go to antique stores every chance I had just to look at everything and learn. Notice the decorative details, study in person how pieces are made. If you keep at it, eventually you will begin to recognize styles and spot reproductions.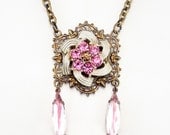 And it's really fun :)