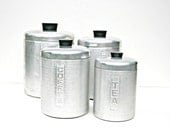 My love for vintage started at a very early age. I spent a lot of time with my Grandmother who had quite the collection of antiques and was constantly on the look out for unique pieces to add to her collection. She so patiently taught me by example and instilled in me a passion and respect for the finer things of our past. Years later, I was introduced to Etsy through a friend and found the perfect way to share my passion with others globally.
My favorite era is the 1950s-1960s. The vibrant colors, styles, culture and the overall way of life during this particular time period are so fascinating to me.
It's difficult for me to choose just one favorite vintage find but I'd have to say that coming across a set of pink chenille twin bedspreads (in perfect condition) and purchasing them for $1.00 a piece was my all time score of the century.
The hunt for vintage treasures gives me the biggest rush. The adrenaline really gets flowing when I hit a 50% off sale at the local Thrift Store, attend a flea market or even a neighborhood yard sale. I've also been blessed with the friendship of a man who is an antique dealer and often supplies me with wonderful vintage inventory to add to my shop. My attic is packed full of items that I need to list!
Research is the key to successfully selling vintage items. I spend a lot of time on the internet conducting research in order to price my items competitively and according to the market. I also spend a considerable amount of time photographing my items as presentation is everything and a good picture speaks volumes. What I find most difficult is focusing my product line. My advice is to find that niche, that one particular area that you are passionate about and offer items that reflect your personality.